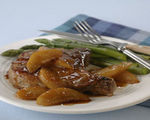 Prep: 20 min
Cook Time: 15 min
Total: 35 min
Serving: 4
This one-skillet dish is a hearty recipe that your family will love. Serve this Asian-inspired meal with rice and sauteed veggies. This terrific recipe is sponsored by the National Pork Board.
Ingredients
4 bone-in center loin pork chops, about 3/4-inch thick
1/2 cup flour
1 teaspoon dried thyme
1 teaspoon freshly ground black pepper
1/2 teaspoon salt
1 1/2 tablespoons olive oil
1/3 cup pear nectar
1/2 cup packed golden brown sugar
3 tablespoons low-sodium soy sauce
2 tablespoons unseasoned rice vinegar
1 tablespoon grated fresh ginger root
1/4 teaspoon cayenne
4 firm but ripe, peeled, halved lengthwise, cored, and cut into 1/2-inch wedges Anjou pears
2 teaspoons cornstarch
Directions
To make glaze, bring pear nectar to simmer in large, non-stick skillet over medium-high heat. Add sugar, soy sauce, vinegar, ginger root, and cayenne. Stir until sugar is dissolved and sauce begins to simmer. Add pears and stir to coat. Cook, basting pears frequently, until pears are barely tender, 4 minutes. Mix remaining 2 tablespoons of pear nectar with cornstarch and stir into pear mixture. Simmer until sauce thickens slightly. Transfer to bowl and set aside. Wipe out skillet.
Combine flour, thyme, pepper, and salt on plate. Dredge chops in flour mixture, coating all sides and shaking off excess.
Using same pan, heat olive oil over medium-high heat and swirl to coat pan. Add pork chops and brown on each side, turning once, about 4 minutes per side. Turn heat to low and pour pear mixture over top, cover, and cook until chops are cooked through and pears are tender, about 5 minutes. Serve immediately.