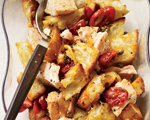 Prep: 15 min
Cook Time: 25 min
Total: 40 min
Serving: 4 Servings
A delicious and creative one-dish meal, enjoy meaty pieces of roasted salmon tossed with chunks of ciabatta bread, tomatoes, capers and lemon. Serve accompanied by a bottle of American Chardonnay or Beaujolais.
Ingredients
8 1-inch-thick slices of ciabatta, from a 12-ounce loaf cut into large chunks
5 tablespoons extra-virgin olive oil
2 pints grape tomatoes, halved
2 large garlic cloves, minced
2 tablespoons salted capers, rinsed and coarsely chopped
1 lemon, halved lengthwise and very thinly sliced
1/4 cup chopped flat-leaf parsley
1/2 teaspoon crushed red pepper
Sea salt and freshly ground pepper
2 pounds center-cut skinless salmon fillet, cut into 2-inch chunks
Directions
Preheat your oven to 450 degrees.
Place the chunks of bread in a bowl, drizzle with 2 tablespoons of olive oil and a pinch of salt and pepper and toss to coat. Put the bread onto a baking sheet and place in the oven for 5 minutes.
Put the tomatoes, garlic, capers, lemon, parsley, crushed red pepper, 2 tablespoons of olive oil and a few pinches of salt and pepper into a serving bowl and toss to combine. Place the tomato mixture onto the baking sheet with the bread and place in the oven for 12 minutes.
In the meantime, place the salmon into a bowl, drizzle with 1 tablespoon of olive oil and then sprinkle with salt and pepper. Toss to coat and then add the salmon to the baking sheet with the bread and tomato mixture. Toss to combine and then roast the mixture for 7 minutes, or until salmon is cooked through. Serve immediately.