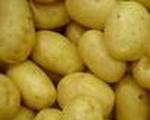 Prep: 15 min
Cook Time: 20 min
Total: 35 min
Serving: 4
Pan Fried Diced Potatoes are great at any meal.
Ingredients
1 1/2 pounds boiling potatoes
vegetable oil for frying
salt
Directions
Peel potatoes and cut into 1/2 inch dice. Wash them in two changes of cold water and pat dry.
Choose a large skillet that can accomodate all the potatoes. Pour in 1/2 inch vegetable oil and turn the heat on moderate-high. Check for sizzle. Add the potatoes and lower heat to moderate. Cook the potatoes until tender when pierced but sitll pale, not having yet formed a crust. Remove the potatoes to a plate and let cool completely. Leave oil in pan.
Shortly before serving, set the skillet with the oil over high heat. When the oil is very hot, return the potatoes to the pan and cook until light brown and crusty on all sides. Transfer them to a warm platter, sprinkle with salt and serve at once.