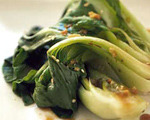 Prep: 5 min
Cook Time: 10 min
Total: 15 min
Serving: 4 Servings
Baby bok choy is widely available in supermarkets, especially Asian food markets, during the spring and throughout the summer. Enjoy this flavorful vegetarian side dish recipe alone or pair with roasted chicken or beef.
Ingredients
12 ounces baby bok choy (4 to 8 pieces), quartered lengthwise
2 tablespoons peanut oil
1/2 cup coarse soft sourdough breadcrumbs
1 clove garlic, minced
1 tablespoon soy sauce
2 teaspoons toasted sesame seed
Directions
Rinse the bok choy off with cold water to remove any dirt or grit, and then drain well.
Place the oil into a large sauté pan over medium heat. Once it begins to shimmer, add the breadcrumbs and sauté for 1 minute until light golden brown, and then add the garlic and cook the mixture for an additional 1 minute. Transfer the bread and garlic mixture from the pan and set aside.
Place the bok choy into the pan, sauté for 5 minutes and then transfer to a shallow serving bowl. Top with the breadcrumb mixture, toss gently to combine and then garnish with a drizzle of soy sauce and a sprinkle of sesame seeds.