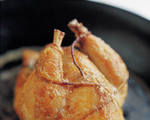 Prep: 25 min
Cook Time: 1 hr 25 min
Total: 1 hr 50 min
Serving: 6
Classic Paella Italian Style mixes in a bit of Italian spices with the traditional Spanish flavors.
Ingredients
4 hot Italian sausages
1/4 cup olive oil
1, 3 pound broiler-fryer chicken, cut up
1 cup onion, chopped
1 clove garlic, minced
1 1/2 cups long grain rice
1, 8 ounce can tomato sauce
1 3/4 cups chicken broth
2 cups water
1 teaspoon dried oregano
1 teaspoon salt
1/4 teaspoon pepper
1/4 teaspoon powdered saffron
1/2 pound fresh shrimp, shelled and deveined
1, 9 ounce package Italian green beans
1, 4 ounce jar pimento, chopped fine
Directions
Parboil sausages in water to cover, 10 minutes; drain, cut into 1/4 inch slices.
Heat oil in a large deep skillet. Brown chicken pieces a few at a time; remove as they brown.
Saute onion and garlic in same skillet until tender, about 5 minutes. Add rice, tomato sauce, chicken broth, water, oregano, salt, pepper and saffron. Bring to boiling. Pour mixture in a 9 by 13 inch baking pan and place chicken pieces on top; cover with foil.
Bake at 400 degrees F for 30 minutes. Add shrimp and sausages to the mixture. Cover; bake an additional 20 minutes or until chicken, rice and seafood are done.
Cook green beans according to package directions; drain. Fluff up rice mixture; stir in pimento; garnish with green beans around edges of pan.