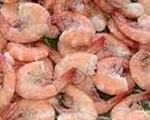 Prep: 45 min
Cook Time: 45 min
Total: 1 hr 30 min
Serving: 8
Paella is a classic Spanish dish that serves a hungry crowd.
Ingredients
1 chicken, cut up (about 2 1/2 pounds)
1 pound sausage
1/2 teaspoon saffron
dash of paprika
1 bay leaf
1/2 cup white wine
juice of one lemon
1/8 teaspoon pepper
1 1/2 cups rice
6-10 quahogs (large clams)
3/4 pounds cooked shrimp
1 1/2 cups chicken broth
1 1/2 teaspoons salt
1 live lobster
Directions
Brown sausage. Be sure it is cooked through.
Then brown chicken for 10 minutes. Add saffron, paprika, bay leaf, white wine, chicken broth, lemon juice, salt, pepper and rice.
Top with lobster whole or broken in pieces, clams and shrimp. Cover with foil and cook for 15 minutes.
Uncover and cook for an additional 5 minutes. Rice should be moist but not floating.