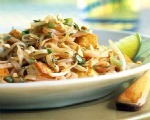 Prep: 20 min
Cook Time: 20 min
Total: 40 min
Serving: Serves 6 people
A popular dish at many Asian restaurants, Pad Thai with Chicken & Shrimp is easy to make at home. Makes a great meal option for any dinner-and-a-movie night in.
Ingredients
8 ounces uncooked rice noodles, 1/8-inch wide
1-1/2 tablespoons fish sauce (check the international aisle at the grocery store)
2 tablespoons fresh lemon juice
2 tablespoons rice wine vinegar
1 tablespoon ketchup
2 teaspoons sugar
1/4 teaspoon crushed red pepper
1 tablespoon vegetable oil
4 ounces boneless, skinless chicken breast, chopped into small pieces
2 green onions, thinly sliced
2 cloves garlic, minced
3 ounces uncooked shrimp, peeled & deveined
2 cups fresh bean sprouts
1 carrot, shredded
3 tablespoons fresh cilantro, minced
2 tablespoons unsalted, dry-roasted peanuts, chopped
Directions
Add noodles to a medium-sized bowl. Cover them with lukewarm water and let stand for about 30 minutes. Drain & set aside. Using a small bowl, add the fish sauce, lemon juice, vinegar, ketchup, sugar and red pepper and whisk together until well-combined. Set aside.
Use a large, non-stick skillet and add the oil to it over medium-high heat. Add the chicken, onions and garlic. Cook until the chicken is no longer pink, constantly stirring. Add the noodles to the chicken and cook for about a minute, stirring. Add the shrimp and bean sprouts and cook for about 3 minutes, or until the shrimp are opaque. Add the fish sauce mixture, and combine everything to coat thoroughly. Cook for a few additional minutes, until everything is warmed through.
Add the noodle mixture to a large serving platter. Sprinkle the entire dish with the carrot, cilantro and top with peanuts.