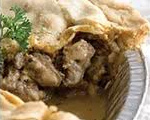 Prep: 15 min
Cook Time: 50 min
Total: 1 hr 5 min
Serving: 4 servings
Ingredients
1 dozen oysters, with liquid
1/4 cup milk
4 tablespoons fat
4 tablespoons flour
3 tablespoons butter
4 tablespoons green onions, chopped
1 tablespoon parsley, chopped
1 teaspoon lemon juicei
salt and pepper to taste
1 teaspoon red hot sauce
2 pie crusts
Directions
Heat the fat in a heavy skillet and stir in the flour until browned. Lower heat and add oysters and liquid and milk. Stir until thick.
Mix in the remaining ingredients and simmer for 5-7 minutes.
Pour the mixture into the pie crust and top with the second crust. Pinch the edges together to seal. Punch the top with a fork.
Bake at 350 degrees Fahrenheit for 50 minutes.