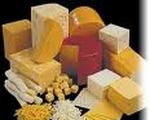 Prep: 40 min
Cook Time: 5 min
Total: 45 min
Serving: 10
Serve fresh celery sticks with Over the Top Blue Cheese Dip.
Ingredients
2 tablespoons olive oil
4 cloves garlic, minced
3 shallots, minced
1/2 teaspoon dry mustard
1 1/2 cups sour cream
1/2 cup plain Greek-style yogurt
2 tablespoons mayonaise
1 3/4 cups blue cheese, crumbled
1 tablespoon fresh parsley, minced
pinch paprika
Directions
In a medium skillet over medium-heat, combine the oil, garlic, shallots and mustard. Saute until shallots are lightly browned and very tender, about 4-5 minutes.
Remove the skillet from the heat and let cool for 5 minutes. Stir in the sour cream, yogurt and mayonaise. Stir in the blue cheese. Transfer to a serving bowl, then refrigerate for at least 30 minutes. When ready to serve, sprinkle with parsley and paprika.