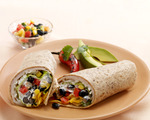 Prep: 15 min
Cook Time: –
Total: 15 min
Serving: 1
Chipotle peppers, lime and corn are paired with oven-roasted turkey in this burrito. The heat and smokiness of the chipotle peppers highlight the meat's roasted flavor. The acidity and sourness of the lime and sweetness of the corn tickle the palate and accentuate the turkey's saltiness.
Ingredients
1/2 cup drained black beans
1/2 cup finely chopped tomato
1/4 cup thawed frozen whole kernel corn
2 tablespoons chopped fresh cilantro
2 tablespoons lime juice
1 tablespoon chopped onion
1 teaspoon chipotle peppers, chopped
1 clove garlic
1 teaspoon minced green onion
1 teaspoon salt
1 teaspoon pepper
1/2 teaspoon ground cumin
1 (10-inch) burrito-size flour tortillas
3 slices deli turkey
1 leaf romaine lettuce
2 tablespoons sour cream
Directions
To make salsa, in bowl, combine beans, tomato, corn, cilantro, lime juice, chopped onion, chipotle pepper, garlic, green onion, salt, black pepper and cumin.
Lay tortilla on flat surface. Lay turkey slices down center of tortilla. Top with remaining ingredients and 1/4 cup salsa. Fold burrito.