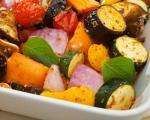 Prep: 35 min
Cook Time: 50 min
Total: 1 hr 25 min
Serving: 8
From http://www.swanson.com
Ingredients
Vegetable cooking spray
3 medium red potatoes (about 1 pound), cut into 1-inch pieces
2 cups fresh or frozen whole baby carrots
1 pound celery root (celeriac), peeled and cut into 1-inch pieces (2 cups)
1 rutabaga (about 3 pounds), peeled and cut into 1-inch pieces (6 cups)
2 medium red onions, cut into 8 wedges each
2 medium parsnips, peeled and cut into 1-inch pieces (1-1/2 cups)
5 cloves garlic, cut into thin slices
1 tablespoon chopped fresh rosemary leaves or fresh thyme leaves
1 tablespoon olive oil
1 cup Swanson's Vegetable Broth (regular or certified organic)
Directions
Heat the oven to 425 degrees F. Spray a 17 x 11-inch roasting pan or shallow baking sheet with the cooking spray.
Stir the potatoes, carrots, celery root, rutabaga, onions, parsnips, garlic, rosemary and oil in the prepared pan. Roast the vegetables for 30 minutes. Pour the broth over the vegetables and stir.
Roast for 20 minutes more or until the vegetables are fork-tender.