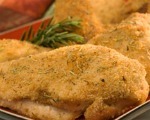 Prep: 10 min
Cook Time: 40 min
Total: 50 min
Serving: 8 servings
A comfort food classic with less guilt!
Cost per recipe*: $7.05.
Cost per serving*: $.88.
*Based on average retail prices at national supermarkets.
Nutrition Information per serving:
Calories 310, Calories From Fat 100, Saturated Fat 2.5g, Trans Fat 0g, Total Fat 11g, Cholesterol 145mg, Sodium 410mg, Total Carbohydrate 6g, Sugars 1g, Dietary Fiber 0g, Protein 44g, Vitamin A 2%, Vitamin C 8%, Calcium 4%, Iron 10%
Ingredients
1/2 cup plain dry bread crumbs
3/4 teaspoon garlic salt
1/2 teaspoon dried oregano, parsley or rosemary leaves, crushed
1/4 teaspoon ground black pepper
3-1/2 pounds chicken parts, skin removed
1/2 cup Hellmann's® or Best Foods® Mayonnaise Dressing with Extra Virgin Olive Oil
Directions
Preheat oven to 400 degrees Fahrenheit.
Combine bread crumbs, garlic salt, herbs and black pepper in shallow dish; set aside.
Add chicken and Hellmann's® or Best Foods® Extra Virgin Olive Oil Mayonnaise to large plastic bag; shake to evenly coat. Remove chicken, then lightly dip in crumb mixture. Arrange chicken on cookie sheet.
Bake 40 minutes or until chicken is thoroughly cooked.