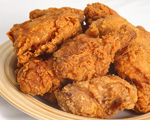 Prep: 30 min
Cook Time: 55 min
Total: 1 hr 25 min
Serving: 4 Servings
This tastes as great as traditional fried chicken, minus all the calories and fat. Serve with a creamy ranch buttermilk dipping sauce.
Ingredients
3-1/2 pounds chicken parts
salt and freshly ground pepper
2 large eggs
1/4 cup milk
2-1/2 cups crushed corn flakes
2 teaspoons salt
1/2 teaspoon freshly ground black pepper
3 tablespoons melted butter
Directions
Preheat the oven to 350 degrees and place the oven rack on the upper third of the oven. Grease a large baking sheet with oil or cooking spray.
Rinse off the chicken with cold water and then pat dry. Sprinkle thoroughly with salt and pepper, and set aside.
In a small bowl, mix the eggs and milk with a whisk until well combined.
In a large shallow bowl, add the cornflakes, 2 teaspoons of salt and 1/2 teaspoon pepper.
Place the chicken pieces in the egg mixture and then coat in the cornflakes, pressing firmly so the flakes adhere. Place each coated piece of chicken on the prepared baking sheet.
Drizzle the melted butter over the chicken and place in the oven for 55 minutes. Serve immediately.