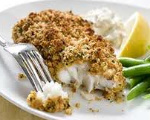 Prep: 15 min
Cook Time: 1 hr
Total: 1 hr 15 min
Serving: 4-5 servings
Broiled bass dinner with apples and bacon.
Ingredients
1 4-5 pound bass, whole
1 tablespoon salt
1 teaspoon pepper
6 strips bacon
1 onion, chopped
1 cup apple, diced
2 lemons, thinly sliced
1 green pepper, chopped
1 teaspoon garlic powder
1 teaspoon celery salt
1/4 cup butter
3/4 cup Wprcestershire sauce
2 tablespoons soy sauce
Directions
Clean the fish, do not remove skin though, and remove the head and empty the cavity.
Arrange 3 strips of the bacon in the bottom of a shallow baking tin.
Combine the onion, apple, lemon and green pepper. Spread 1/3 of the mixture over the bacon.
Rub the sides of the fish with the salt and pepper and place in the baking tin. Stuff the cavity of the fish with another 1/3 of the mixture, and the other 1/3 on top of the fish. Top with the 3 strips of bacon.
In a saucepan, melt the butter. Stir in the Worcestershire sauce, soy sauce and the remaining ingredients. Bring to a boil. Use the mixture to baste the fish regularly while cooking. (Do not turn the fish.)
Bake at 375 degrees Fahrenheit until the meat separates form the bone, approximately 1 hour.