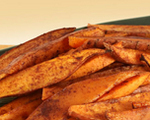 Prep: –
Cook Time: 25 min
Total: 25 min
Serving: Serves 2
Though a gluten-free diet poses dietary restrictions for popular snacks that contain gluten such as pretzels, crackers, nutrition bars, and other wheat-based baked goods, your child's after school snack selection doesn't have to be boring, based only on packaged products labeled gluten-free.
Ingredients
1 large sweet potato, cut into steak fries
2 teaspoons olive oil
Salt and freshly ground black pepper
Directions
Preheat oven to 400 degrees F.
In a large bowl, toss fries and olive oil to coat. Season with salt and pepper.
Spread fries on a large baking sheet and bake for 20 to 25 minutes, or until they are tender and lightly browned.