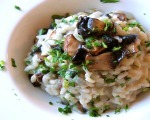 Prep: 35 min
Cook Time: 35 min
Total: 1 hr 10 min
Serving: Serves 4 people
The recipe for this delightful dish is easy because it's baked. Serve Oven-baked Mushroom Risotto with Parmesan cheese on top and with a fresh side salad for an extraordinary meal.
Ingredients
1 cup of arborio rice
1-1/2 cup dried porcini mushrooms
1 onion, finely chopped
2 tablespoons olive oil
1 garlic clove, minced
Salt & pepper to taste
Fresh Parmesan cheese, grated for topping
Directions
Add the mushrooms to a heat-proof bowl and pour 3 cups of boiling water over them. Leave them to soak for about 30 minutes. Drain mushrooms, reserving the liquid. Rinse the mushrooms under running water and dry them on paper towels.
Preheat your oven to 350 degrees F. In a large-sized ovenproof skillet, heat the oil and add the onion. Allow onion to cook a minute or so and add the garlic. Cook for another minute or until the onion is tender.
Add the rice to onion mixture and cook for 2 minutes. Add the mushrooms and stir well. Pour in the reserved liquid and mix well. Season with salt & pepper. Cover with foil.
Bake the mixture for about 30 minutes, stirring occasionally, until all the stock is absorbed and the rice is tender. Serve in individual bowls and garnish with grated Parmesan cheese. Serve warm.