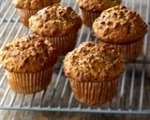 Prep: 10 min
Cook Time: 20 min
Total: 30 min
Serving: 12 muffins
Moist and delightful muffins made with Kellogg's All-Bran® cereal
Variations: For Molasses Bran Muffins, decrease milk to 125 millilitres (1/2 cup). Add 125 millilitres (1/2 cup) molasses to cereal with milk. Omit sugar, then follow rest of directions below.
Ingredients
325 millilitres (1-1/3 cups) all-purpose flour
125 millilitres (1/2 cup) sugar
15 millilitres (1 tablespoon) baking powder
1 millilitre (1/4 teaspoon) salt
375 millilitres (1-1/2 cups) All-Bran Original® or All-Bran Buds® cereal
250 millilitres (1 cup) milk
1 egg
75 millilitres (1/3 cup) vegetable oil
Directions
Stir together flour, sugar, baking powder and salt. Set aside.
In large mixing bowl, combine cereal and milk . Let stand about two minutes or until cereal softens. Add egg and oil. Beat well. Add flour mixture, stirring only until combined. Portion batter evenly into 12 greased 6.4-centimetre (2-1/2-inch) muffin pan cups coated with cooking spray.
Bake in oven at 200 degrees C. (400 degrees F.) for about 20 minutes or until muffins are golden brown. Serve warm.