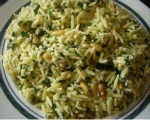 Prep: 10 min
Cook Time: 15 min
Total: 25 min
Serving: Serves 6 people
Orzo with spinach and walnuts makes a great side dish. Serve with grilled chicken or fish.
Ingredients
1 cup orzo
2-1/4 cups reduced-sodium vegetable broth
1/4 cut roughly chopped walnuts
2 cups firmly packed spinach leaves (wash and dry the spinach first)
Directions
Over medium-low heat in a medium-sized saute pan, heat the walnuts. Stir constantly as they cook until they are golden, or about 5 minutes. Set them aside.
In a medium-sized deep saute pan over high heat, add the broth and cook until boiling. Once boiling, add the orzo and cook, covered, until the broth is absorbed and the orzo is firm to the bite (about 15 minutes).
When the orzo is almost entirely cooked, stir in the spinach and cook until its wilted, about 30 seconds. Add to a serving bowl and sprinkle with the walnuts before serving.