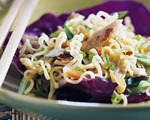 Prep: 2 hr 10 min
Cook Time: 3 min
Total: 2 hr 13 min
Serving:
Learn to be creative on a budget with this recipe for Oriental Chicken Slaw made with ramen noodles. The seasoning packet makes a spicy base for the dressing and the noodles are added to a classic cabbage and carrot mixture to make a modern slaw.
Ingredients
1/2 cup salad oil
1/2 cup rice vinegar
1/4 cup sugar
1/4 teaspoon crushed red pepper
2 3-ounce packages chicken-flavored ramen noodles
4 cups finely chopped cooked chicken
4 cups packaged shredded cabbage with carrot (coleslaw mix)
3/4 cup sliced almonds, toasted
1/2 cup sliced green onions
Directions
Place the seasoning packet from the ramen noodles into a bowl and then add the oil, vinegar, sugar, red pepper. Whisk the mixture vigorously until completely blended.
Cook the ramen noodles according to package directions, drain well and then place into a large salad bowl. Add some of the prepared dressing, toss to coat and then add the chicken, cabbage, almonds, green onions and remaining dressing. Toss well to combine and then cover the bowl and place in the refrigerator to chill for at least 2 hours prior to serving.