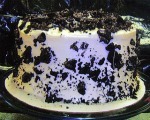 Prep: 30 min
Cook Time: 30 min
Total: 1 hr
Serving: 18
Oreos aren't just for dunking in milk. You can use them to make a variety of recipes, such as this delightfully sweet cake filled and covered with Oreos.
Ingredients
1 (18 ounce) box white cake mix
1/3 cup canola oil
4 egg whites
1-1/4 cups coarsely chopped Oreo cookies (about 11 cookies)
Frosting:
4-1/4 cups powdered sugar
1 cup butter, softened
1 cup shortening (NOT butter flavored)
1 teaspoon almond extract
1/2 cup crushed Oreo cookies (about 5 cookies)
Directions
Preheat the oven to 350 degrees F. Grease and flour two eight-inch round cake pans.
Blend together the cake mix, oil, egg whites and 1-1/4 cups water. Mix on low until moistened and then on high for two minutes. Fold in the chopped cookies. Pour into the prepared pans.
Bake for 25-30 minutes. Allow to cool for 15 minutes before removing from pans.
To make the frosting, beat all the ingredients in a bowl until creamy. Frost the bottom layer and then place the top layer on top and finish frosting. Sprinkle the remaining cookie crumbs over top.