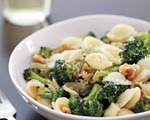 Prep: 10 min
Cook Time: 20 min
Total: 30 min
Serving: 4 Servings
This elegant vegetarian dinner dish combines orecchiette pasta with a delicious combination of roasted broccoli, walnuts and garlic. Top with some freshly grated Parmesan cheese and serve with a bottle of American Sauvignon Blanc.
Ingredients
12 ounces orecchiette pasta (3 cups)
1 bunch broccoli (1-1/2 pounds), cut into small florets
1/2 cup walnuts, roughly chopped
1/4 cup olive oil
2 cloves garlic, chopped
sea salt and black pepper
2 tablespoons butter
1/4 cup freshly grated Parmesan (1 ounce)
Directions
Preheat your oven to 400 degrees,
Place the broccoli, walnuts, oil and a few pinches of salt and pepper into a large bowl and toss well to combine. Transfer the mixture to a rimmed baking sheet and place in the oven for 20 minutes to roast.
In the meantime, cook the pasta according to package directions, drain (reserving 1/2 cup of the pasta cooking liquid) and then return the pasta to the pot.
Add the roasted broccoli mixture to the cooked pasta, along with the reserved cooking liquid and the butter. Toss gently to combine and then serve immediately with the Parmesan cheese.