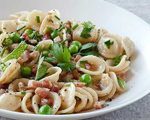 Prep: 10 min
Cook Time: 10 min
Total: 20 min
Serving: 8 servings
If possible, pick up some fresh peas from your local famers' market for this Italian-inspired dish and serve with a full-bodied and fruity Chardonnay.
Ingredients
1 pound orecchiette
Sea salt
2 tablespoons unsalted butter
4 ounces thickly sliced pancetta, finely diced
2 cloves garlic, minced
1 large jalapeño, seeded and minced
1 cup fresh or frozen peas, thawed
1/2 cup freshly grated Pecorino-Romano cheese
Freshly ground pepper
2 tablespoons snipped chives
2 tablespoons chopped flat-leaf parsley
2 tablespoons chopped mint
Directions
Cook the pasta 'al dente' according to package directions and drain, reserving 1 cup of the pasta liquid.
Place the butter in a large sauté pan over medium heat to melt. Once melted, add the pancetta, toss to coat in the butter and cook for 4 minutes. Stir in the garlic and jalapeno and cook for 35 seconds, then add the peas and toss the mixture to combine.
Add the cooked pasta to the pan along with the reserved cooking liquid and the cheese. Season with a few pinches of salt and a healthy amount of pepper, and then cook over high heat for 2 minutes.
Sprinkle the mixture with the chives, parsley and mint, stir to combine and then serve immediately.