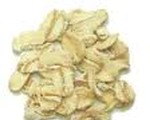 Prep: 35 min
Cook Time: 40 min
Total: 1 hr 15 min
Serving: 8
Ora's Oatmeal Cake is flavored with cinnamon and nutmeg and frosted with pecans and coconut.
Ingredients
1 cup oatmeal
margarine, softened
1 cup packed brown sugar
1-1/2 cups flour
2 eggs
1 teaspoon each soda, cinnamon
1/2 teaspoon each salt, nutmeg
1-1/2 cups sugar
2 tablespoons corn syrup
1 teaspoon vanilla extract
1/4 cup evaporated milk
1 cup coconut
1 cup pecans, chopped
Directions
Combine oatmeal with 1-1/2 cups boiling water and 1 stick margarine in a large bowl. Let stand, covered, for 20 minutes, stirring occasionally.
Combine next 7 ingredients with 1 cup sugar in bowl, mixing well. Add to oatmeal mixture blending thoroughly. Pour into a 9 x 13-inch baking pan.
Bake at 350 degrees F for 40 minutes or until cake tests done.
Blend 6 tablespoons margarine with 1/2 cup sugar and remaining ingredients in a bowl. Spread over cake. Broil until brown.