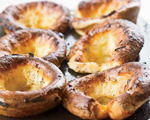 Prep: 10 min
Cook Time: 35 min
Total: 45 min
Serving: 8 servings
Popovers make delicious, and attractive, additions to your breakfast, lunch and dinner table. Enjoy these orange popovers slathered with real butter and served straight from the oven.
Ingredients
3 large eggs, at room temperature
1 tablespoon sugar
1 teaspoon finely grated orange zest
1-1/4 cups milk
4 tablespoons unsalted butter, melted
1-1/4 cups all-purpose flour
1/2 teaspoon baking powder
1/2 teaspoon salt
Directions
Preheat your oven to 425 degrees and brush a non-stick muffin tin with 1 tablespoon of melted butter. Place the tin into the oven for 5 minutes to brown the butter.
In the meantime, place the eggs, sugar and orange zest into a bowl and whisk vigorously until blended. Add the milk and the remaining melted butter, and continue to whisk until combined. In a separate bowl, stir the flour, baking powder and salt together and then add to the bowl with the dry ingredients. Stir until the batter is relatively smooth with small lumps.
Fill the prepared muffin tin cups halfway-full with the batter and then place in the oven for 30 minutes. Serve immediately.