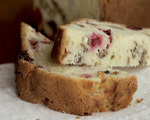 Prep: 25 min
Cook Time: 35 min
Total: 1 hr
Serving: Makes 1 loaf
This sweet bread is ideal for serving as a tea bread. For a sweeter taste, add 1/4 cup dried cranberries.
Ingredients
1/4 cup butter
1/4 cup sugar
1 egg, separated
2 teaspoons grated orange peel
3/4 cup flour
3/4 teaspoon baking powder
1/4 teaspoon baking soda
1/4 teaspoon salt
1/4 cup orange juice
1/3 cup chopped pecans
1 tablespoon sugar
1 tablespoon orange juice
Directions
Mix together butter and sugar until well blended.
Add egg yolk and orange peel; mix thoroughly.
Combine flour, baking powder, baking soda and salt; add to sugar mixture while stirring in 1/4 cup orange juice.
In a separate bowl, beat egg white until stiff.
Fold in egg white and chopped pecans.
Pour batter into prepared loaf pan and bake at 350 degrees for 35 minutes.
In a saucepan, mix together 1 tablespoon sugar and 1 tablespoon orange juice over medium heat until sugar is dissolved. Pour over warm bread.