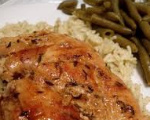 Prep: 10 min
Cook Time: 40 min
Total: 50 min
Serving: 6 servings
Low-fat orange marmalade and mint glazed chicken breast dinner.
Ingredients
6 (5 ounce) boneless skinless chicken breasts
1 cup sugar-free orange marmalade
2 tablespoons lemon juice
2 teaspoon dried mint leaves
Directions
Combine the orange marmalade, lemon juice and mint leaves in a saucepan. Heat on low until heated through.
Arrange the chicken breasts in a shallow greased baking pan. Broil, unglazed, for 8 minutes per side. Glaze both sides, and continue broiling for 15 minutes, flipping once. Glaze often while cooking.