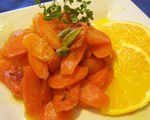 Prep: 20 min
Cook Time: 28 min
Total: 48 min
Serving: Serves 4-6
Carrots are already sweet on their own, but when glazed with citrus juice they adopt a whole new sweet and tangy flavor. A great side dish to compliment your main meal.
Ingredients
2-1/2 pounds medium carrots, peeled, cut on diagonal into 1/4-inch-thick slices
2 cups water
1 cup fresh orange juice
1/2 cup sugar
1/4 cup fresh lime juice
2 tablespoons (1/4 stick) butter
2-1/2 teaspoons finely grated orange peel
2 teaspoons finely grated lime peel
1 teaspoon salt
1 tablespoon chopped fresh parsley
Directions
In a large sauce pan add the carrots, water, juice, sugar, lime juice, butter, orange peel, lime peel and salt.
Bring the mixture of ingredients to a boil, and continue to cook over medium-high heat, stirring occasionally, for 10 minutes.
Remove the carrots from the pan and set aside.
Continue to boil the liquid in the sauté pan for another 10 minutes. Add the carrots back to the pan and boil until liquid thickens to a light syrup consistency, approximately 8 minutes.
Sprinkle the carrots with salt, pepper and parsley. Serve warm.