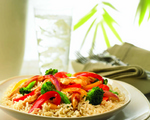 Prep: –
Cook Time: 15 min
Total: 15 min
Serving: Makes 6, 1 cup servings
Show your heart you care, try this terrific, heartwarming recipe for orange chicken and vegetable rice bowls, loaded with heart-healthy omega-3s, folic acid and whole grains.
Courtesy of the USA Rice Federation
Ingredients
1 tablespoon vegetable oil
1/2 pound skinless, boneless, chicken breasts, cut into strips
1 cup broccoli florets
1 carrot, thinly sliced
1/2 medium onion, sliced
1/2 each yellow and red bell peppers, sliced
1 1/2 teaspoons grated fresh ginger
7-ounces low-sodium chicken broth
1/4 cup orange juice
1 1/2 teaspoons grated orange zest
1 1/2 tablespoons soy sauce
1 tablespoon cornstarch
1 1/2 cups hot cooked brown rice
Directions
In a large skillet or wok, heat 1/2 tablespoon of oil; add chicken and stir fry until lightly browned; remove and set aside.
In same skillet, heat remaining oil; stir fry vegetables and ginger 4 to 5 minutes, or until vegetables are tender crisp.
Combine chicken broth, orange juice and zest, soy sauce, and cornstarch in bowl and stir until smooth; add to skillet, stirring constantly; boil 1 to 2 minutes, or until thickened; stir in chicken and cook until heated through; spoon over or toss with warm rice.