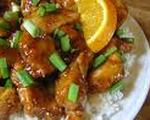 Prep: –
Cook Time: 25 min
Total: 25 min
Serving: 4-6 People
Everybody loves orange chicken. It's a favorite dish at Chinese restaurants across the nation, but a single-sized serving of the stuff will set you back seven bucks or more. Here is an easy recipe that tastes so much like the orange chicken you order at Panda Express, you won't believe it!
Ingredients
1 1/2 pounds chicken breast, uncooked
3 well beaten eggs
2 tablespoons milk
1 cup cornstarch
Salt and pepper to taste
1/2 cup soy sauce
1/4 cup catsup
1/2 cup honey
1/4 cup orange juice, freshly squeezed
Zest of 1 orange
2 tablespoons white vinegar
1 tablespoon chives
1 tablespoon red pepper flakes
1 tablespoon sliced almonds
Directions
Slice chicken into bite-sized pieces. Dip chicken pieces in egg mixture, coat in cornstarch, then dip again in egg mixture. Fry in oil heated over a medium or medium-high stove until lightly browned on both sides.Remove and allow to cool on a paper towel before transferring to a cookie sheet.
To cook, make sure chicken pieces are in a single layer on cookie sheet, coat with orange-kumquat glaze and bake according to directions below.
In a medium saucepan, combine soy sauce, catsup, honey, orange juice and zest, chives, and red pepper flakes. Stir together over medium heat and bring just to a boil. Drizzle sauce over prepared chicken.
Bake in an oven preheated to 400 degrees F for 20 to 25 minutes, stirring often to coat the chicken with the glaze. Remove from oven when glaze is no longer puddled around the chicken, it should be sticky and fully coat the chicken
Garnish with chives or chopped scallions, red pepper flakes, kumquat slices, and sliced almonds. Serve immediately over steamed rice.