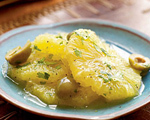 Prep: 10 min
Cook Time: –
Total: 10 min
Serving: Makes about 2/3 cup
The contrast in flavors in this orange and olive salad creates an addictive blend of tastes and textures. Use pitted, Green Kalamata olives and fresh seasonal oranges.
Ingredients
4 oranges, peeled and cut crosswise into slices
1/2 cup green Kalamata olives, pitted and halved
1/4 cup finely chopped fresh cilantro
1/4 teaspoon sea salt
1/4 teaspoon freshly ground black pepper
2-1/2 tablespoons fresh lemon juice
1-1/2 tablespoons olive oil
1 teaspoon orange-flower water
Dash of sugar
Directions
Put the slices of orange into a bowl with the olives and the chopped cilantro. Toss to combine and then sprinkle with some sea salt and a few grinds of fresh black pepper.
In another bowl, vigorously whisk together the juice, oil, orange-flower water, and sugar. Pour over the orange and olive mixture and gently toss to coat.