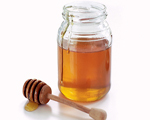 Prep: 20 min
Cook Time: 1 hr 10 min
Total: 1 hr 30 min
Serving: Makes 1 loaf
This bread is a delightful side to almost any dinner. Serve with just a slight topping of butter.
Ingredients
3-1/2 cups flour
1/2 teaspoon baking powder
1/2 teaspoon baking soda
1/2 teaspoon salt
2 tablespoons butter
1 cup honey
1 egg, lightly beaten
1-1/2 tablespoons grated orange rind
3/4 cup freshly squeezed orange juice
1 cup chopped nuts
Directions
Preheat oven to 325 degrees.
Combine flour, baking powder, baking soda and salt.
Mix butter until soft. Stir in honey and egg until well blended.
Stir in orange rind.
Mix in flour and orange juice. Add walnuts.
Pour into prepared loaf pan.
Bake at 325 degrees for 60-70 minutes.