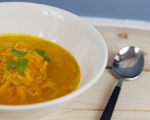 Prep: 10 min
Cook Time: 27 min
Total: 37 min
Serving: 4 Servings
This vividly orange-colored soup is satisfyingly sweet and tangy. Use seasonal and preferably organic ingredients for a fresher-tasting and healthier dish.
Ingredients
2 tablespoons olive oil
1 clove garlic, chopped
2 onions, chopped
4-6 carrots, grated
1 piece fresh ginger, chopped
2 big oranges, juiced and peeled, peels shredded
2 tablespoons olive oil
7 cups vegetable broth
sea salt and freshly ground pepper
thyme to garnish
Directions
Place the olive oil in a soup pot over medium heat. Once the oil begins to shimmer, add the onion and garlic and sauté for 5 minutes.
Add the carrots and the ginger to the pot, cook for 2 minutes stirring frequently, and then pour in the broth and the orange juice. Bring the mixture to a boil and cook for 15 minutes.
Using a stick blender, puree the soup to desired consistency and then add the orange peel and some salt and pepper to taste. Simmer the mixture for an additional 5 minutes and then serve garnished with some thyme.