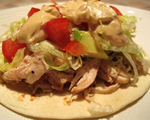 Prep: 10 min
Cook Time: 15 min
Total: 25 min
Serving: 6 Servings
This is a perfect meal to serve for a kid's party. Let each child top his or her own taco with the toppings of their choice.
Ingredients
12 (6-inch) flour tortillas
1-1/4 light cups mayonnaise
2 tablespoons minced canned chipotle in adobo sauce plus 2 teaspoons sauce, or to taste
4 teaspoons lime juice, plus lime wedges for serving
1 teaspoon sugar
2 small avocados
4 cups boneless skinless rotisserie chicken pieces
4 medium vine-ripe tomatoes, roughly chopped (about 1-3/4 cups)
1/2 pound package shredded iceberg lettuce (about 5 cups)
Directions
Preheat your oven to 325 degrees.
Wrap the tortillas in aluminum foil and place in the oven for 15 minutes.
In the meantime, place the mayonnaise, chipotle in adobo sauce, 2 tablespoons water, 2 teaspoons lime juice and sugar into a bowl and stir to combine.
Peel, pit and cut the avocados and sprinkle with the remaining 2 teaspoons of lime juice. Place on large platter along with the chicken, tomatoes and lettuce.
Serve the warm tortillas alongside the mayonnaise mixture and the platter of toppings. Let each person assemble their own taco.