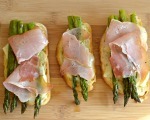 Prep: 5 min
Cook Time: 15 min
Total: 20 min
Serving: Serves 4 people
Is there anything more delicious than a decadent ham and cheese sandwich? Well, if you love the traditional lunchtime sandwich, give this one a whirl. Made with prosciutto (thinly-sliced Italian ham), roasted asparagus, melted white cheddar cheese -- all served on crispy ciabatta bread. This is the ham and cheese a whole new, fancy way.
Ingredients
4 pieces thinly-sliced ciabatta bread
5 pieces thinly-cut prosciutto
4 thick slices white cheddar cheese
2 tablespoons extra virgin olive oil
16 pieces of roasted asparagus, stems cut
Liberal dashes of salt and pepper
Directions
Preheat the oven to 350 degrees F. Line a baking sheet with foil. Place the slices of bread on the foil. Put each slice of cheese on the slices of bread. Bake the cheese and bread for 12 minutes or until melted and gooey.
Arrange four spears of asparagus over the cheese. Top with the prosciutto, salt and pepper. Serve warm and enjoy!