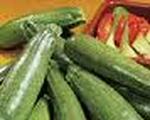 Prep: 12 hr 25 min
Cook Time: 40 min
Total: 13 hr 5 min
Serving: 6
Great for veggie lovers, Onion, Zucchini and Basil Pizza.
Ingredients
1 pound loaf frozen plain bread dough, thawed overnight in refrigerator
4 cups onions, sliced
4 tablespoons olive oil
2 cups zucchini, sliced
1 teaspoon salt
1 teaspoon dried basil, crushed
4 tablespoons Parmesan cheese, grated
8 ounces Mozzarella cheese, shredded
Directions
Divide dough in half; stretch to fit two lightly greased 12 inch pizza pans, pressing against bottoms and sides of pans and keeping dough slightly thicker on edges. Allow crusts to rest 10 minutes.
Saute onions in oil in large skillet until soft but not brown, about 5 minutes. Stir in zucchini, salt and basil; saute 5 minutes longer. Remove skillet from heat.
Sprinkle Parmesan cheese over pizza dough, dividing evenly. Spread half of onion-zucchini mixture over each pizza. Sprinkle with Mozzarella cheese.
Bake at 450 degrees F for 15 minutes or until crusts are golden brown.