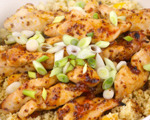 Prep: 10 min
Cook Time: 20 min
Total: 30 min
Serving: 4 Servings
This simple spiced chicken and couscous meal is a one-pot-wonder. The entire meal is cooked to perfection in one pan making it an easy and tasty dish.
Ingredients
1 tablespoon olive oil
1 large onion, thinly sliced
1 pound boneless skinless chicken breasts, cubed
1/2 teaspoon salt
1/4 teaspoon black pepper
2 cups chicken broth
3 cloves garlic, thinly sliced
1/2 teaspoon ground cumin
1/2 teaspoon cinnamon
1/2 teaspoon ground ginger
1/4 teaspoon cayenne
1 cup water
8 ounces shredded carrot
1/2 cup raisins
1 cup couscous
1/2 cup slivered almonds, toasted
Directions
Place the oil into a large sauté pan over medium heat. Once the oil begins to shimmer, add the onion and sauté for 4 minutes.
Sprinkle the chicken cubes with a few generous pinches of salt and pepper, and then add to the sauté pan. Cook the mixture for 3 minutes, and then slowly pour in the broth. Stir the mixture well to combine and then add the garlic, cumin, cinnamon, ginger and cayenne and the water.
Bring the mixture to a simmer and then add the carrot and raisins. Cook for 3 minutes and then add the couscous.
Cover the pan, remove from the heat and let stand for 5 minutes before serving topped with the toasted almond slivers.