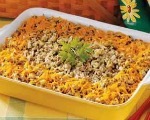 Prep: 20 min
Cook Time: 45 min
Total: 1 hr 5 min
Serving: 20 servings
A delicious, creamy, pork, vegetable and noodle casserole.
Ingredients
2 pounds pork tenderloin
2 tablespoons canola oil, divided
1-1/2 cups celery, sliced
1 large onion, chopped
2 red bell peppers, seeded and chopped
1 (12 ounce) package small egg noodles, cooked and drained
1 (10 ounce) can cream of chicken soup
1 (10 ounce) can chicken broth
1 (8 ounce) carton whipping cream
1 (10 ounce) package frozen green peas, thawed
1-1/2 cups seasoned breadcrumbs
3/4 cup chopped walnuts
Directions
Preheat the oven to 350 degrees Fahrenheit. Grease a 10x15inch baking dish.
Chop the pork into 1/2-inch cubes. Brown in 1 tablespoon of oil. Reduce the heat and cook for 25 minutes. Remove and set aside.
In the same skillet, add the remaining oil along with the celery, onion and bell pepper. Saute. Stir in the pork, noodles, broth, whipping cream, peas and 1-1/2 teaspoons salt and 1 teaspoon of pepper. Mix well before spreading in the prepared pan.
Sprinkle the breadcrumbs and walnut over top. Bake for 35-45 minutes or until bubbly and lightly browned.