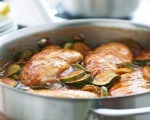 Prep: 10 min
Cook Time: 25 min
Total: 35 min
Serving: Serves 4 people
One-dish chicken and veggies is a great to serve with rice or couscous for a complete meal.
Ingredients
4 skinless, boneless chicken breast halves
1 tablespoon olive oil
1 medium zucchini, sliced
1 medium green bell pepper, sliced
1 medium onion, cut into rings
2 cloves garlic, minced
1 (11-ounce) can condensed tomato soup
Salt and pepper to season, extra black pepper
1/4 cup water
Directions
Season the chicken with the salt and pepper. Add the olive oil to a medium-sized saute pan over medium-high heat. Cook the chicken (turning once) for about 15 minutes, or until it is cooked through. Remove it from the skillet and keep it warm.
Add the zucchini, pepper, onion and garlic to the saute pan, along with black pepper to taste. Cover the pan and allow the vegetables to cook. Stir the mixture a few times while it's cooking. Add the soup to the pan and bring it to a boil. After it reaches a boil, lower the heat and simmer, covered, for about 5 minutes.
Serve the chicken over rice or couscous and spoon the vegetable mixture over the top.