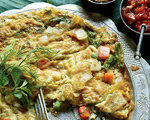 Prep: 5 min
Cook Time: 5 min
Total: 10 min
Serving: Makes 1 omelet
This Asian-inspired omelet is seasoned with a Thai red chile, dill and fish sauce. Enjoy its bold combination of flavors for brunch or as a light lunch dish.
Ingredients
3 large eggs
2 tablespoons chopped dill
1 scallion, cut into 1-inch pieces
1 Thai red chile, sliced
1/2 teaspoon Asian fish sauce
1/2 teaspoon freshly ground pepper
salt
2 tablespoons vegetable oil
1 medium shallot, coarsely chopped
Directions
Place the eggs into a bowl and beat until frothy. Stir in the dill, scallion, Thai chile, fish sauce, pepper and a few pinches of salt; mix to blend.
Put a skillet over medium heat and add the oil. Once it begins to shimmer, add the shallot and sauté for 2 minutes.
Add the rest of the oil to the pan. Once hot, pour in the egg mixture and cook for about 1-1/2 minutes until eggs are just set, then transfer to a plate and serve immediately.