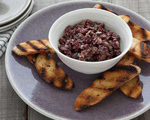 Prep: 10 min
Cook Time: 5 min
Total: 15 min
Serving: 4 Servings
These Mediterranean-inspired Crostini are served with an olive and garlic tapenade made with fresh chives, parsley and thyme. Serve this rustic appetizer with a bottle of Napa Cabernet.
Ingredients
Tapenade:
1 cup pitted Kalamata olives
1 shallot, chopped fine
1 clove garlic, chopped
1 anchovy filet
Zest of 1 lemon
1 tablespoon extra-virgin olive oil
1 tablespoons finely chopped fresh chives
1 tablespoons finely chopped fresh parsley
1 teaspoon fresh thyme leaves, chopped
Lemon juice to taste
Salt and freshly ground black pepper
Crostini:
1/2 sourdough baguette, cut on the bias into 2-inch-long crostini
Olive oil for brushing
Salt and freshly ground black pepper
1 clove garlic, halved
Extra-virgin olive oil
Directions
Prepare a grill pan on medium-high heat.
Place the olives, shallot, garlic, anchovy, lemon zest, olive oil, chives, parsley, thyme, a few pinches of salt and pepper and some lemon juice to taste into a food processor and blend until smooth.
Thoroughly brush the slices of bread on both sides with some olive oil and then sprinkle with salt and pepper. Place the bread onto the grill pan for 40 seconds and then remove and rub with the cut side of the garlic clove.
Spoon the olive tapenade onto each slice and serve drizzled with some extra-virgin olive oil.