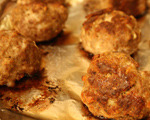 Prep: 15 min
Cook Time: 25 min
Total: 40 min
Serving: Makes 12 meatballs
A mix of Parmesan with garlic, parsley, oregano and fennel gives these Italian-style meatballs their authentic, old world flavor.
Ingredients
1 pound ground beef
1/2 pound ground pork
1 cup freshly grated Parmesan cheese
1 cup dried bread crumbs
2 eggs
2 cloves garlic, minced
1 teaspoon dried parsley flakes
1 teaspoon salt
1/2 teaspoon freshly ground black pepper
1/4 teaspoon oregano
1/2 teaspoon fennel seeds
Olive oil to grease pan
Directions
Preheat your oven to 350 degrees, line a baking sheet with aluminum foil and then brush with olive oil.
Place the beef, pork, cheese, bread crumbs, eggs, garlic, parsley flakes, salt, pepper, oregano and fennel seeds into a large bowl, and mix together until thoroughly combined. Shape the mixture into about 12 balls and then place on the prepared baking sheet.
Bake the meatballs in the oven for 25 minutes.