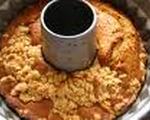 Prep: 12 hr
Cook Time: 45 min
Total: 12 hr 45 min
Serving: 10-12
Old Fashioned Crumb Cake is a moist and tender classic that will remind you of your childhood.
Ingredients
For the Crumb Topping: 3 sticks margarine
3/4 cup brown sugar
3/4 cup white sugar
3 cups flour
1 heaping teaspoon cinnamon
For the Cake: 3 tablespoons butter
1 cup sugar
1 egg
2 cups flour
3 1/2 teaspoon baking powder
pinch of salt
1 cup milk
1 teaspoon vanilla
Directions
For Crumb Topping: Mix all ingredients by hand. Shape in a ball and wrap in plastic wrap. Refrigerate overnight.
For Cake: Mix butter and sugar. Add the egg. Mix the baking powder and salt with the flour and add to mixture. Add the milk and the vanilla. Mix well.
Pour cake batter into a greased 9 x 13 inch pan. Crumble on the topping. Bake at 350 degrees F for 40-45 minutes.