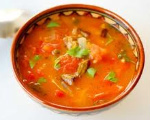 Prep: 15 min
Cook Time: 1 hr 30 min
Total: 1 hr 45 min
Serving: 5 servings
Okra and vegetable soup with ham.
Ingredients
4 cups okra
1 ham bone
1 cup celery
1/2 cup chopped green pepper
1/2 cup chopped onion
4 tablespoons bacon drippings
4 ripe tomatoes
1 teaspoon salt
1 teaspoon brown sugar
6 cups boiling water
Directions
Cut the okra and celery crosswise. Dice the onion and green pepper. Brown the onion and pepper in the fat for 5 minutes.
Place the ham bone in a heavy pot and add the water. Mix in the browned onion and pepper. Boil until the ham meat separates from the bone.
Chop the tomatoes into fourths, and add with the remaining ingredients to the pot. Simmer for 1 hour.