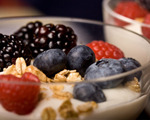 Prep: –
Cook Time: –
Total: –
Serving: 4 People
Breakfast for dinner is an easy fix for busy days. Keep this homemade oatmeal granola on hand -- with the delicious, sweet flavors of an oatmeal cookie and a maple yogurt, your family will beg for breakfast for dinner more often!
Ingredients
1 teaspoon vanilla
2-1/2 cups oatmeal
1/3 cup honey
1/4 cup melted butter
1 cup golden raisins
3/4 cup brown sugar
1 cup pecans
1/4 cup bran
1 teaspoon cinnamon
1 cup dried cranberries
1/2 cup shredded coconut
2 cups low-fat Greek yogurt
1 tablespoon maple syrup
8 sliced strawberries
1 cup fresh blueberries
Directions
Mix the first 11 ingredients in a large bowl and combine them thoroughly.
Spray a 9 x 13-inch pan with cooking spray and pour the mixture into the baking dish. Bake at 350 degrees F for 10 minutes and stir well.
Continue baking for 10 minutes.
Stir the maple syrup into the Greek yogurt.
Layer in wine glasses, two spoonfuls of the oatmeal cookie granola.
On top of the granola, add two spoonfuls of the maple yogurt.
Top the parfait with fresh fruit.