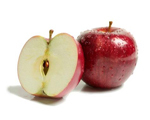 Prep: 10 min
Cook Time: 10 min
Total: 20 min
Serving: Makes 2 dozen cookies
These moist and chewy cookies are full of spice and finely chopped apples. They make a great afternoon snack and aren't packed with a lot of sugar.
Ingredients
1/2 cup shortening
1 tablespoon sugar
1 egg
1/2 cup milk
1 cup chopped nuts
1 cup raisins
1 apple, finely chopped
1 cup flour
1 cup oatmeal
1/2 teaspoon salt
1 teaspoon baking soda
1 teaspoon cinnamon
1 teaspoon nutmeg
1 teaspoon vanilla
Directions
Mix together shortening, sugar, egg and milk.
Add flour, oatmeal, salt, baking soda, cinnamon, nutmeg and vanilla; blend well.
Fold in nuts, raisins and apple.
Drop by teaspoon onto prepared cookie sheets.
Bake at 350 degrees for 10 minutes or until golden brown.