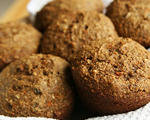 Prep: 10 min
Cook Time: 20 min
Total: 30 min
Serving: Makes 12 muffins
If you are a fan of hot oat cereal, then try these hearty oat bran muffins made with applesauce, ginger and cinnamon.
Ingredients
1-1/4 cup soft whole wheat flour
1 cup oat bran
1/2 cup dark brown sugar
2 teaspoons baking powder
1/4 teaspoon salt
1/2 teaspoon ground ginger
1 teaspoon cinnamon
1-1/4 cups applesauce
1 cup buttermilk
1/4 cup olive oil
1 extra-large egg
Directions
Preheat your oven to 400 degrees and line a 12-cup muffin tin with paper liners.
Place the flour, oat bran, sugar, baking powder, salt, ginger, cinnamon and applesauce into a large bowl and stir well to combine.
In another bowl, whisk together the buttermilk, oil and egg until thoroughly blended, and then transfer to the bowl with the dry ingredients. Stir the mixture until combined and then pour the batter into the prepared muffin tin. Bake the muffins for 20 minutes, or until the top of a muffin springs back when gently pressed. Le the muffins cool for 5 minutes prior to serving.