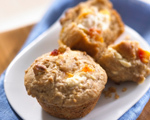 Prep: 10 min
Cook Time: 20 min
Total: 30 min
Serving: Makes 12 muffins
These muffins may taste sinfully sweet and delicious, but they are surprisingly a low-fat and healthy treat. Serve lightly toasted topped with a small pat of real butter.
Ingredients
1 cup quick-cooking oats
1 cup buttermilk
1/4 cup packed brown sugar
1/4 vegetable oil
2 tablespoons light molasses
1 teaspoon vanilla
2 egg whites
1-1/4 cups all-purpose flour
1-1/2 teaspoons cinnamon
1 teaspoon baking soda
1 teaspoon baking powder
1/2 teaspoon salt
1 cup chopped fresh or frozen peaches
Directions
Preheat your oven to 400 degrees and grease a muffin tin with cooking spray.
Place the oats and the buttermilk in a bowl and mix to combine. Slowly beat in the sugar, oil, molasses, vanilla and egg whites until blended. Add in the flour, cinnamon, baking soda, baking powder and salt and mix until the batter is lumpy and just moistened.
Fold in the peaches and then spoon the batter into the prepared muffin tins; place into the oven for 20 minutes to bake. Remove the muffins immediately from the pan and place on a wired rack to cool.