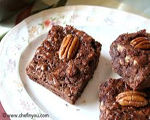 Prep: 20 min
Cook Time: 35 min
Total: 55 min
Serving: 16 People
These delicious squares should be served with tall glasses of milk, as they are quite rich.
Ingredients
2 eggs
2 teaspoons vanilla
1/4 teaspoon salt
1-1/2 cups chopped pecans
1/2 cup flour
1/4 cup sugar
1/2 cup syrup
1/3 cup finely chopped chocolate
3 tablespoons butter
Pecan nut halves, to decorate
Directions
Preheat oven to 325 degrees. Line the bottom and sides of a square baking dish with waxed paper.
Beat eggs, vanilla and salt; set aside.
In a separate bowl, mix together chopped nuts and flour; set aside.
In a saucepan, bring sugar and syrup to a boil. Remove from heat and mix in chocolate and butter.
Add egg mixture and pecan nut mixture.
Pour batter into baking dish.
Bake at 325 degrees for 35 minutes. Allow to cool at least for 10 minutes before pressing pecan nut halves into tops.