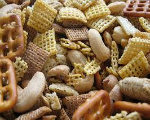 Prep: 5 min
Cook Time: 40 min
Total: 45 min
Serving: apprximately 8 cups
Ingredients
6 tablespoons margarine, melted
4 teaspoons Worcestershire sauce
1/4 teaspoon garlic powder
1/4 cup grated Parmesan cheese
6 cups mixed Chex, Crispix, Cherrios or similar cereal
1 cup chopped pretzels
1 (8 ounce) jar chopped dry-roasted peanuts
Directions
Preheat the oven to 250 degrees Fahrenheit.
Pour the margarine into a 9x12 inch baking dish. Mix in the Worcestershire sauce and garlic powder. Add the remaining ingredients, stirring to insure everything is well coated.
Bake for 30-40 minutes, stirring occasionally. Spread out on paper towels to allow to cool before serving.