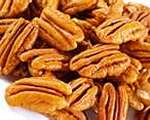 Prep: 15 min
Cook Time: 20 min
Total: 35 min
Serving: 12
Nut Wedges are tender and flaky and will compliment a cup of coffee perfectly.
Ingredients
1 package piecrust mix, for 2 crusts
1/4 cup sugar
3 to 4 tablespoons water
1 cup nuts, chopped fine
1/3 cup sugar
2 tablespoons honey
1 teaspoon ground cinnamon
1 teaspoon lemon juice
milk
1/2 cup semisweet chocolate pieces
1 teaspoon shortening
Directions
In a medium bowl stir together piecrust mix and the 1/4 cup sugar. Add enough water to form a ball. Divide dough in half.
On a lightly floured surface, roll each half of the dough into a 9 inch circle. Transfer 1 circle to an ungreased cookie sheet.
For filling, combine the nuts, the 1/3 cup sugar, honey, cinnamon, and lemon juice. Spread over dough circle on cookie sheet. Top with remaining dough circle. Use tines of fork to seal edges and prick dough. Brush with milk.
Bake at 375 degrees F for 15 to 20 minutes or until pastry starts to brown. Cool 10 minutes on a wire rack. While warm, cut into 16 to 20 wedges. Cool completely.
In a small saucepan combine the chocolate pieces and shortening. Cook and stir over low heat just until melted. Drizzle over wedges.